Engine
Late-Model Universal Atomic 4, gasoline
Mounting incline 9 degrees.
Pearson originally built the P-323 with a Universal Atomic 4 standard, and offered a diesel as an option. In later years, they dropped the A4 and the diesel was standard.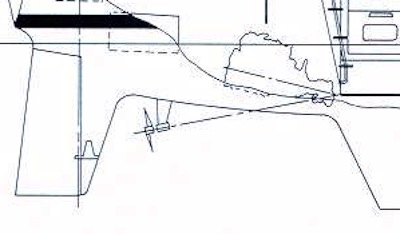 Both the A4 and Diesel configurations utilize a Walter V-Drive. This reverses the direction of the prop shaft and leads it back under the engine, allowing the engine to be placed further aft than normal, getting it out of the cabin and completely under the cockpit. The V-Drive also means that the engine is mounted "backward" from normal, with the flywheel end facing the stern of the boat.
Since the V-drive also reverses the rotation of the shaft, this double-reversing (direction and rotation) cancels out, and the propellor still rotates in the same direction (RH) as a direct-drive Atomic 4
When we purchased Dolce Vita she still had her original Atomic 4 (serial number 197869). Over the years, it's had maintenance and upgrades, but had never been pulled or rebuilt.
In the spring of 2010, I found cracks in the thermostat housing and the head, probably the result of improper or late winterizing by a previous owner. The housing was replaced with a bronze casting from Moyer Marine, and the head was replaced with an OEM head from Westerbeake.
In July of 2010, the engine failed abruptly, with water in the cylinders and the oil. The cause was subsequently determined to be a cracked block, possibly due to additional latent freeze damage. The engine was pulled, in the fall, torn down to a short block, and replaced with a rebuilt short block from Moyer Marine (serial #79084). The engine was also converted to fresh water cooling at this time.
Walter V Drive
Model RV-10D
2:1 reduction
1 pint of SAE 30 Heavy Duty Motor Oil, Exxon Spartan EP-68 Gear Oil, or APG-80 Gear Oil.
DO NOT USE SAE 80 Motor oil or any multi-grade oil!
Prop and Shaft
Stainless Steel shaft, 1 1/8" dia x ??" length
Buck Algonquin Bronze Stuffing Box

Uses 3/16" packing
Repacked spring 2011 with 2 rings of Gore/Graphite GTU and one "ring" of moldable dripless packing from Pacific Trading Co

Two zincs installed on shaft, just ahead of strut.
Prop is 3-bladed, bronze, Michigan, 15RH8
Shaft and Prop painted with Pettit Zinc Spray spring 2011. Repainted spring 2012.
Cooling and Exhaust
Inlet tee and ball valve installed for flushing/winterizing
Grocco strainer, model ???
Originally raw water cooled. The raw water pump had been replaced in 2004 with a sealed-bearing MMI 502 flange pump from Moyer Marine. (804 and 167 stamped on side). In the winter of 2010-2011, this was converted to the fresh water pump on the new engine, and a FWC kit from Moyer Marine (part no CFWK_01_264) installed.
Water side-plate of new rebuilt engine preemptively modified with stud kits on all 8 screws for ease of access.
140 degree late-model thermostat, replaced in 2004, cleaned and tested in 2010.
Exhaust manifold replaced in 2007 with new casting from Moyer Marine
Exhaust hot-section rebulit in 2010-2011 to increase loop height and convert to all stainless steel pipe.
Stainless steel waterlift muffler: Cambridge Welded Tank Corporation, Cambridge, MA
Lubrication
Automotive style spin-on oil filter: Fram PH3614
SAE 30 weight detergent oil. Takes 3 quarts after draining. Some remains behind.
Fuel System
Fuel Tank

OEM, Built by Cambridge Welded Tank Corporation, Cambridge, MA
Monel
Stamped as 30 gallons

Fuel/Trol electric cutoff valve mounted at tank.
Facet universal electronic fuel pump, with external oil pressure cut-off switch at 10 psi

Model 477-060E
1.6 Amp average
1 - 8 PSI, nominal 3 PSI
20 - 45 GPH
Fitting size: 1/8-27 Internal
12 - 24 inch lift
Replacable 74 micron filter
New pump installed Spring, 2010 to replace failed one.

Fuel filter

Located on suction side of pump
Spin-on filter, number: Sierra 18-7845
Ignition
Spark Plugs: Champion RJ12C
Distributor: Pertronix, with Ignitor electronic ignition module. Moyer Marine part number ILGM_13.1_347, installed 2004.
Alternator
Mando 55 Amp from Moyer Marine in 2003
Decal gives "API Marine Inc Part No. 20054 UNI, Mfg Date 2/10/03"
Alternator Belt: 26" to accomodate the larger pully on the hi-output alternator
Part Number for Replacement Voltage Regulator is # VR54
---