Planning & Preparation.
Well, a year had gone by since our less-than-totally-successful first attempt to take a week-long cruise aboard Dolce Vita. The boat now had a completely rebuilt A4 engine in it, the toilet was working, and we were ready to try again.
Joan still wanted to see Cambridge and Oxford, since we had missed them last year, but we both agreed that we had seen enough of Tilghman Island to last a lifetime! As before, the only week we could mutually get off of work coincided with one of the Pearson Sailing Association's events, this time the annual Dun Cove Race. So once again, we decided to use this as a jumping-off point for the trip. We would sail to Galesville on Friday, run the race on Saturday, raft-up with the fleet in Dun Cove Saturday night, and then go on to Cambridge, Oxford, and Solomons Island, spending a day ashore in each place. Afterward we would sail back to our home-port in Rock Creek on the Patapsco with an overnight stop somewhere in the Annapolis area.
Of course, once again things didn't go totally as planned, but more than close enough to consider the trip a complete success.
Off to Galesville
Friday, we arrived at the boat early and started loading our supplies aboard. Learning from our past experience, we only put the perishables away right away, and just piled everything else aboard to be stowed later. This way, we were able to get underway in an hour. After stopping off at tne Maryland Yacht Club's gas dock to top off our fuel, we were on our way.
Winds were light, and we had a pleasant and uneventful trip to Galesville. Once there, we tied up in a slip at the dock at the Pirate's Cove restaurant. For $30/night you get electricity and 24-hour access to the bath house. Hard deal to beat! After cleaning up, we spent happy hour at the bar and then had dinner in the restaurant.
After dinner, we went back to Dolce Vita and met up with fellow P-323 owners Bill & Nancy Eggert, who live in the area and keep their boat "Fortunata" docked just across the river. They brought some wine, which we polished off while discussing the various differences between our two boats. They had to leave early, but said they would take Fortunata out to watch the race starts tomorrow. We agreed to try to get photos for each other.
The Race, Flies, Storms, and a Raftup
Saturday, the wind for the race was favorable but light. After a leisurely breakfast, we headed out to the committee boat to check in and get our sails set.
The Dun Cove race is a pursuit race, where the starts are staggered according to the PHRF ratings so that (theoretically) everyone should finish at the same time. As before, we were one of the first few starts, as our P-323 is a cruiser, not a racer.
This year we actually managed to cross the start line within seconds of our start time (unlike last year when we were 3 min late!). Fortunata showed up, and we got a few photos, but we were pretty far apart and they didn't come out that well.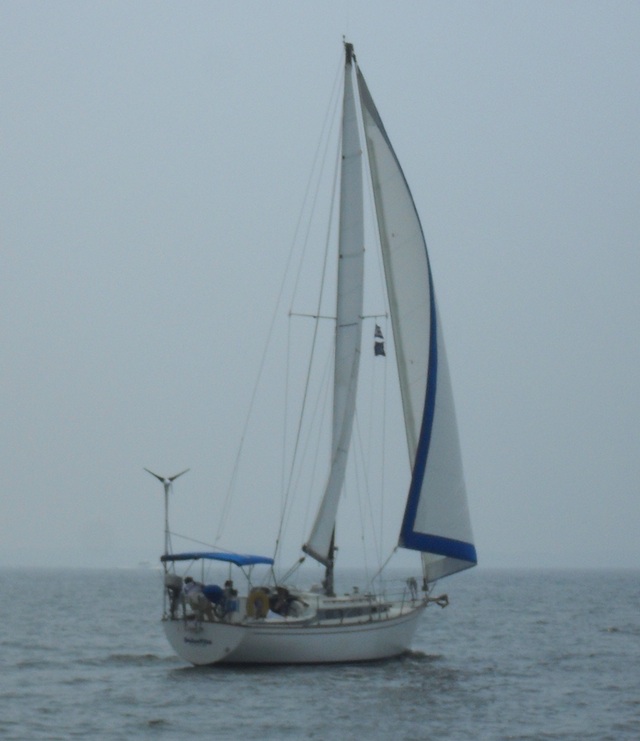 Dolce Vita Starts the Race

Fortunata
We broad-reached down the bay towards Blackwalnut point, but about a third of the way there, the wind died. For the next several hours, we struggled along at a knot or less. The GPS was showing us moving, sideways, away from our destination. "Escapade" sat a short distance away from us, her sails flaping limply. As we were close to Poplar Island, clouds of biting files descended on us, making things pretty miserable.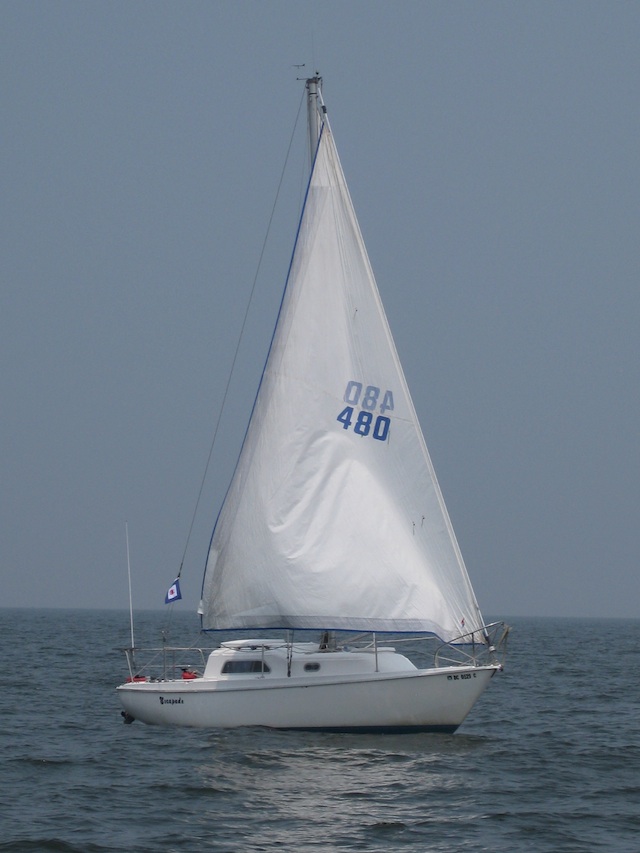 Escapade Drifts with Slack Sails
By 2:30, it was clear that it wouldn't be possible for anyone to finish before the cutoff time, and everybody gave up and began motoring. In the hustle to get underway, Joan tried to sit back down just after I had opened the starboard sail locker to access the engine's starter switch. She was startled but unhurt. Only, she was stuck! She had no leverage and nothing to grab on to! Of course, I had to fetch the camera and record this before helping her out.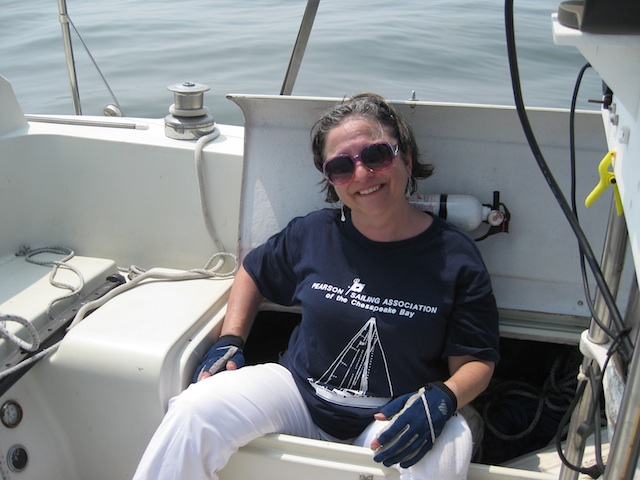 Guess I Should Have Warned You the Locker Was Open!
The National Weather Service was warning of a strong thunderstorm headed right our way, with 40 mph winds and penny-size hail! After some discussion on the radio between us and Escapade, we decided to make a sprint for Knapps Narrows to beat the storm, rather than risk getting caught in it out on the Bay. Thankfully, our rebuilt engine performed flawlessly, pushing us steadily at 6kts. With our longer waterline, and higher hull speed, we reached the entrance to the Narrows well ahead of Escapade. Since the storm was still a ways off, and now appeared to be headed slightly south of us, we decided to continue thru the Narrows, under the drawbridge, and up Harris Creek into Dun Cove. We arrived there and anchored ahead of the storm with minutes to spare. In the end. we only caught the very edge of the storm, with just a little rain.
Escapade came into the Narrows some time behind us. With the storm almost upon them, they decided to tie up there and wait until the rain passed. Afterwards, they joined us at Dun Cove, and we were the only two boats at the raftup! All the others had turned back across the Bay, but I think that took them right into the storm's path.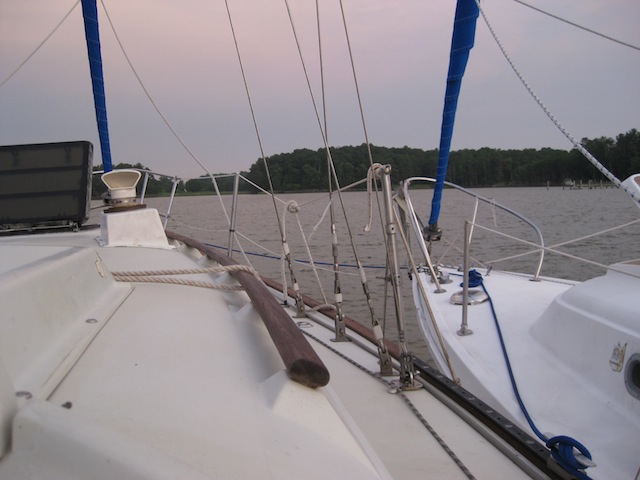 Rafted in Dun Cove
After all that, the sun came out and it turned back into a beautiful day. We all decided to jump in the water and had a nice swim. More T-storms passed north and south of us, but never hit. Dun Cove is a really beautiful anchorage. We watched a heron make "commuter runs" back and forth between two marshes on opposite sides of the cove, wingtips just barely clearing the water. Such elegant precision in flight.
We grilled a wonderful dinner, talked, and puttered about with minor projects on the boat until bedtime.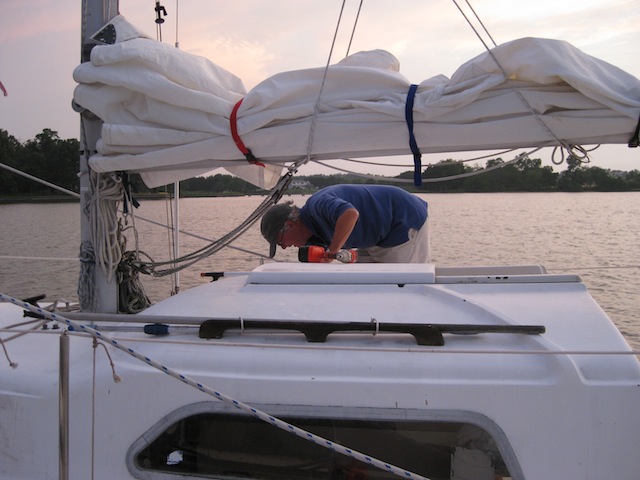 Project Time Aboard Escapade
A Minor Bump in the Road
Sunday morning, in keeping with last year's tradition, the toilet broke again! This time, it acted like the pump's piston had unscrewed or pulled off of the pump handle shaft, leaving the pump inoperable. Since we were going to be living in the boat for the coming week, I decided to defer the repair in order to avoid dumping raw sewage into our living space. So we were back to peeing in a bucket! Fortunately, we'd planned to be mostly in marinas for the next few days, so it wouldn't be too much of an inconvenience. We would have to re-evaluate our 2-day homeward leg from Solomons because we were going to anchor out, but now would need access to the shore.
No Wind, Then Too Much Wind!
The wind Sunday was almost non-existent, so we had to motor all the way to Cambridge. The engine continued to perform perfectly. Once there, we called the marina office on the VHF and they directed us to the narrow zig-zag entrance through their floating breakwater. The refurbished municipal marina is huge, and quite nice. We got a slip close to the bathhouse & laundry.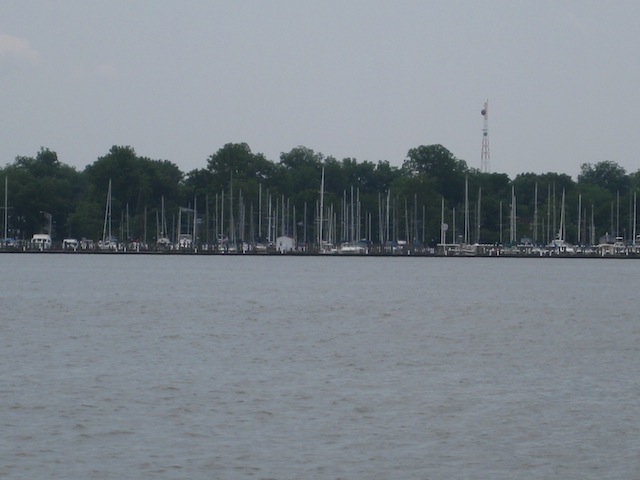 Cambridge Municipal Marina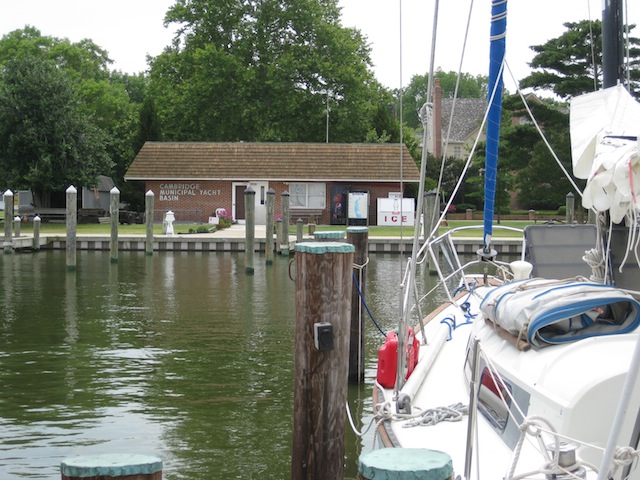 Convenient Slip
We threw a few steaks on the grill for dinner, along with corn-on-the-cob and veggies. Great dinner.
Afterwards, we watched storms building to the NW, The sky looked freaky, with clouds resembling surf crashing on a beach. Within moments, the winds went from light to 60 mph! Our dock lines weren't rigged to take this, and stretched out enough to put our fenders on the pilings. The boat was heeling 15 deg on its bare poles, and the fenders kept sliding under the dock and putting our teak toe-rail right on the dock stringers! Fortunately, we have stainless steel rub-rails which protected things from initial damage. Joanie and I were frantically rigging additional lines before the whole rail went under the dock, and eventually had to use a winch to pull us off of the pilings. It was quite exciting.
And we just caught the edge of that storm! The really heavy stuff went north of us!
The rest of the evening was uneventful, and we retired for the night.
Exploring Cambridge
Monday, we spent the day exploring Cambridge. The weather was absolutely gorgeous! Sunny, breezy, high of 80.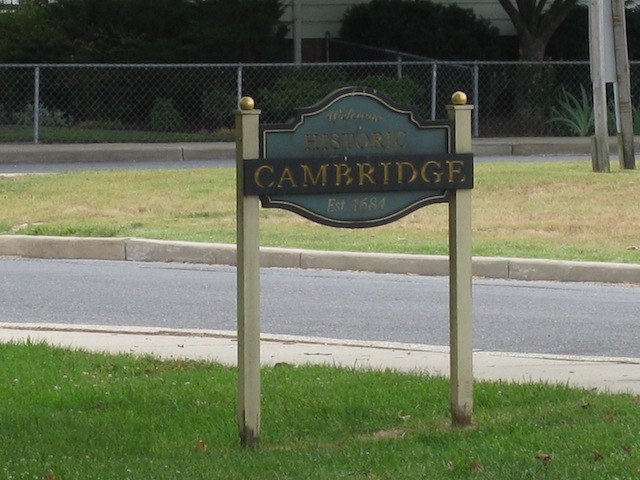 Entering Cambridge on Foot
The Main street up from the municipal marina if full of well-maintained wonderful old houses with ornate trim, and interesting stone architecture, including a Chruch with evil looking gargoyles!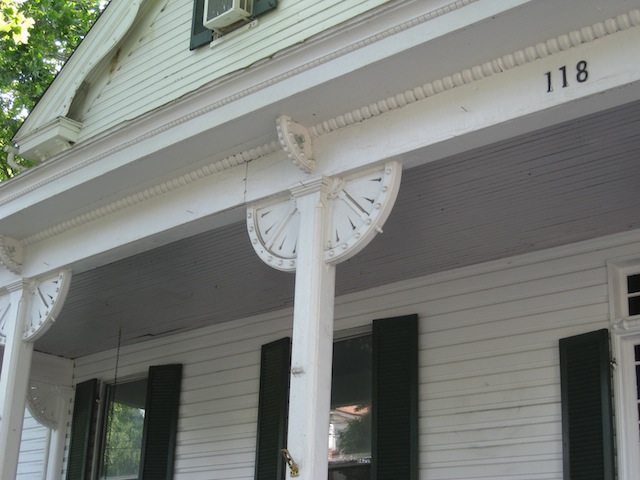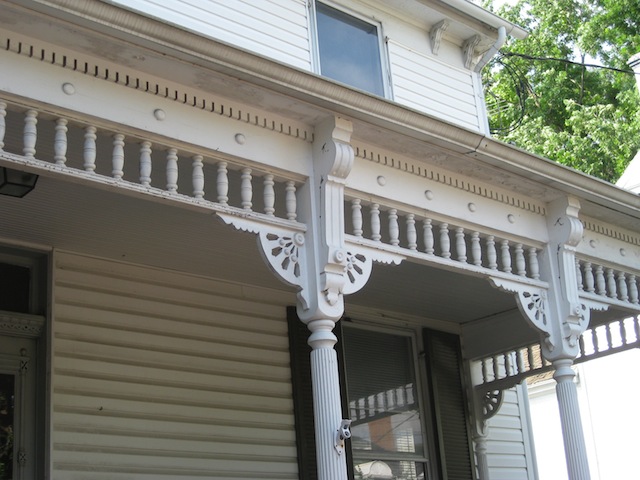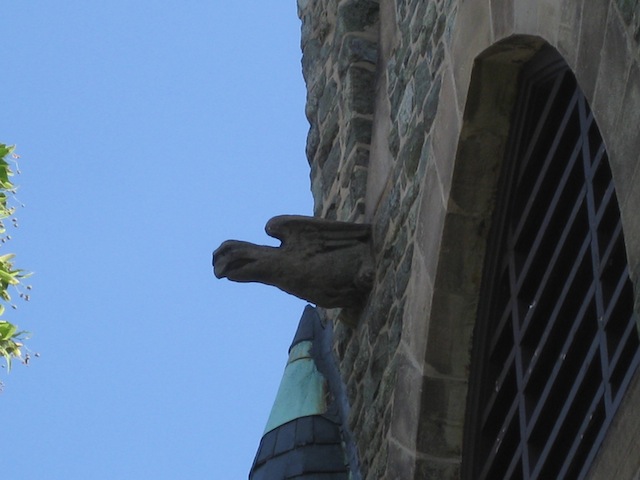 Downtown, we found a large mural/mosaic on the side of a building depicting the heyday of Chesapeake Bay oystering. It even incorporated actual oyster shells.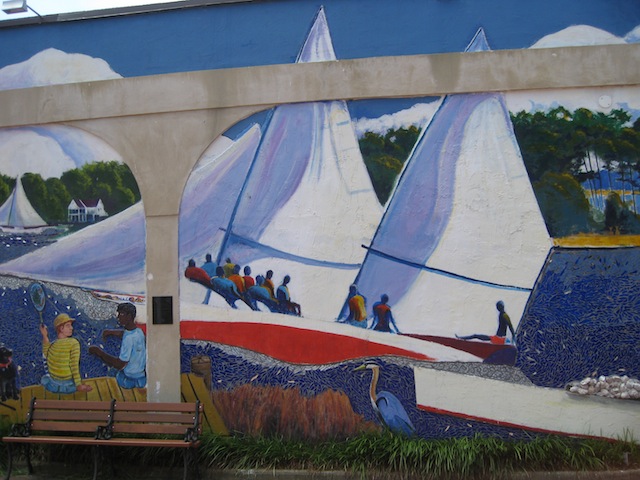 Oystering Mosaic
We also came upon the Harriet Tubman museum, which we wanted to see but which was closed. It seems that many places like this are operating on a shoestring, and can only afford to stay open a few days a week. This being Monday, it seemed we were out of luck.
As we were standing there peering through the windows, a gentleman came up to us and asked if we'd like to see inside. Turns out he was one of the caretakers, and was going in to do some paperwork. He let us in, turned on all the lights, and told us to take our time. Definitely the "small town warmth" treatment instead of the "big city cold shoulder"!
Afterward, we hiked over towards the inlet and the shorline further up-river. There we found the Ruark Boatwork, a combination traditional wood-boat boatyard and Maritime museum. We also came across a 65' Skipjack, the Helen Virginia, which was for sale, and in need of a great deal of work!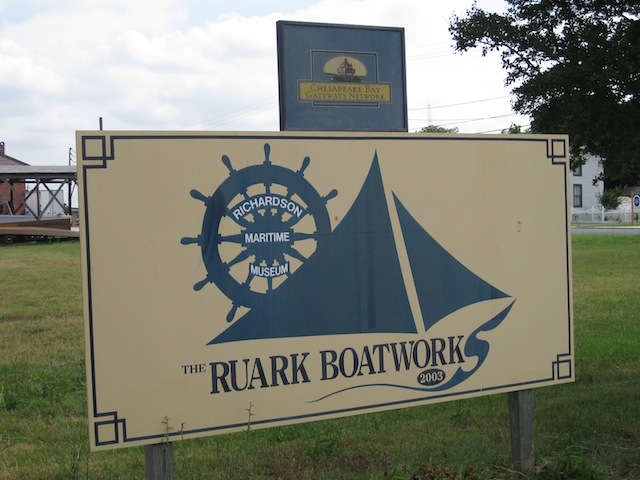 Ruark Boatworks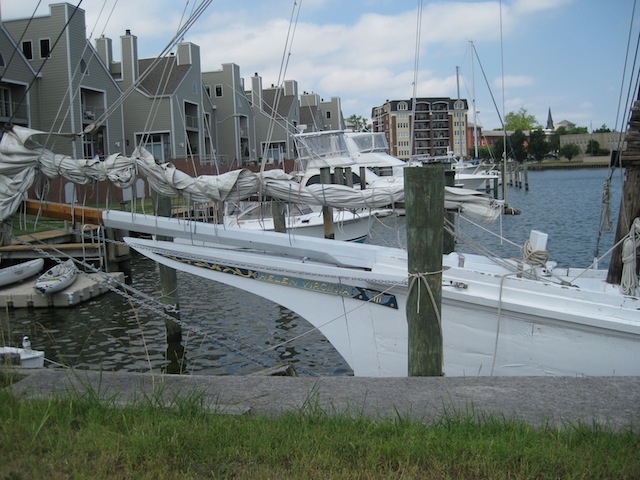 Skipjack Helen Virginia
Near the Ruark Boatwork, there was a large empty flat lot with a sign proclaiming this as the site where a full-size replica of the Choptank River Lighthouse was to be constructed. It would then be moved to the municipal marina, where it would serve as the dockmaster's office. Expected to be complete in late 2012.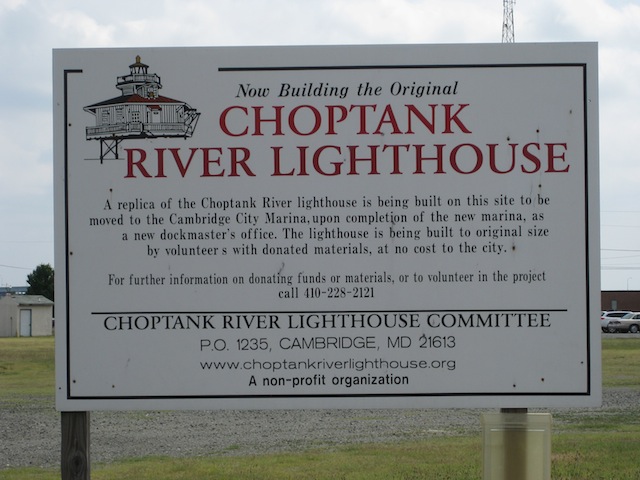 Lighthouse Replica Project
Reflections
It's kind of a sad town.
At one time, Cambridge had a large marine terminal, and was a major shipping port. But the terminal is long closed. The grounds have been turned into Sailwinds Park, and the warehouse into some kind of museum, which in turn appeared to be shut down.
They're trying really hard to revitalize the town, but there's a LOT of empty business and rent/sale signs. Even some of the "new" businesses have closed. Many restaurants closed. It was actually hard to find a place to get lunch! There's one apparently thriving business that sells discounted used restaurant equipment! And yet, despite the poor black/hispanic resident population, there's at least three hair salons, and a half dozen high-end gallerys and boutiques. On one side of the inlet, there's all of the above. On the other side, there's modern waterfront condos and a big Hyatt. Literally a Tale of Two Cities.
Tomorrow, we leave for Oxford. It's a short sail (8-10 mi), and the wind is predicted to be a perfect 11 kts.
On the nose.
Sigh...
A Great Sail to Oxford.
Tuesday morning, we left for Oxford. Another day of perfect weather. As predicted, the wind was right on the nose, but it was blowing more like 16 kts instead of the predicted 11. Since we would be close-hauled all the way, we decided to reef the main & jib to reduce the heel and be comfortable.
We didn't set any speed records, but the sailing was great! Our 10 mile trip took 5 hours and a lot of tacking, but we thoroughly enjoyed it.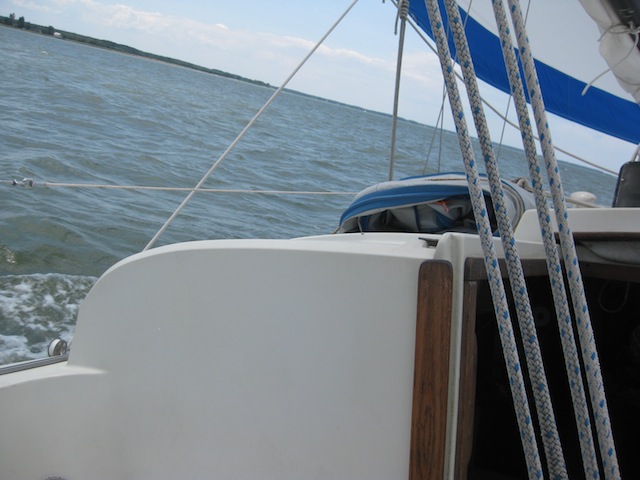 Great Sailing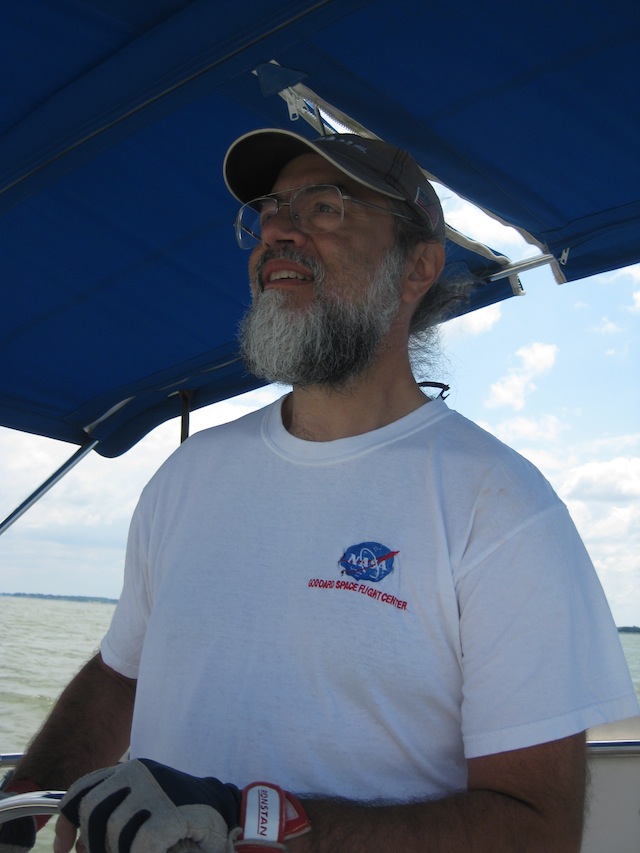 A Happy Captain
At Oxford, we motored into Town Creek and tied up at Mears Yacht Haven at the mouth of the creek. Mears is a really nice place, and very cruiser-friendly. On their advice, we went next-door to Schooner's, where they have 1/2 price appetizers for Tuesday's happy hour. And they're REALLY good. The bacon wrapped scallops & conch fritters were insanely good. We made dinner out of the appetizers, and chatted with another cruising couple.
In the evening, we walked around the town. The historic section is really quite nice, almost like a theme park but with people actually living in it. They've got this theme going on with the picket fences. Apparently their style, with the "onion-bulb top", is unique. Every year, local artists paint up scenes on a free-standing 4-plank section of fence, and display them. In the fall they're auctioned off. We saw them set up all over town, and took lots of photos.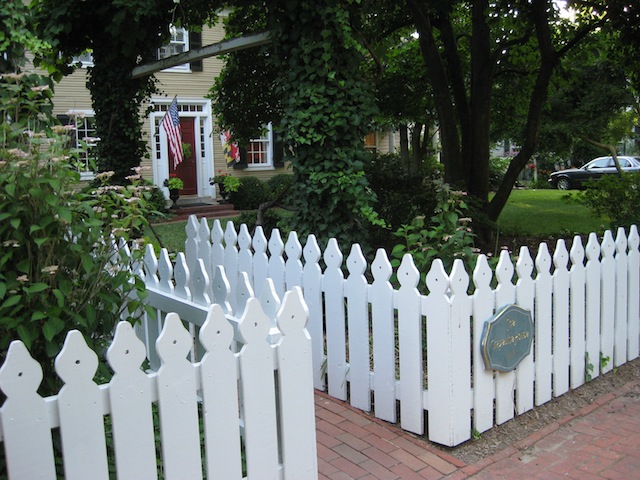 "Onion Bulb" Picket Fence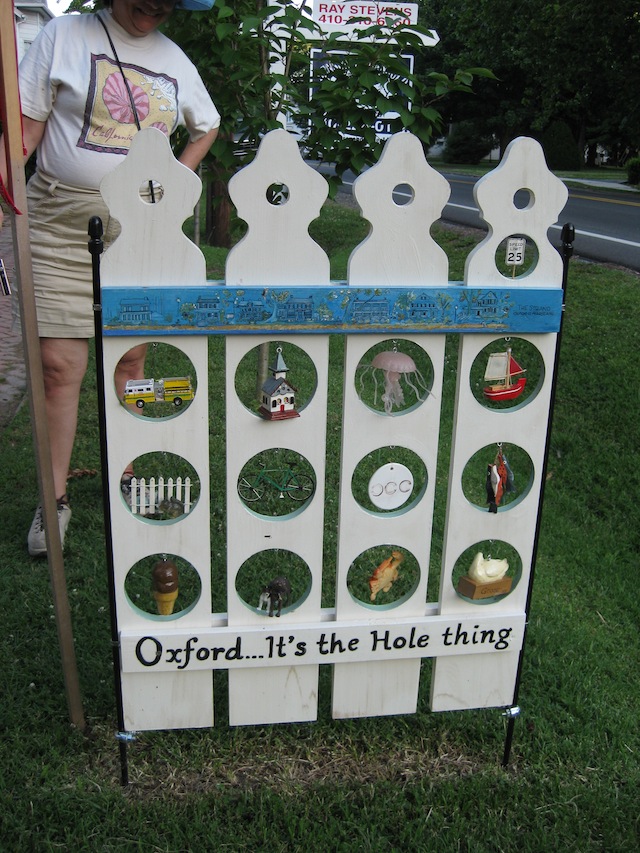 Fence Art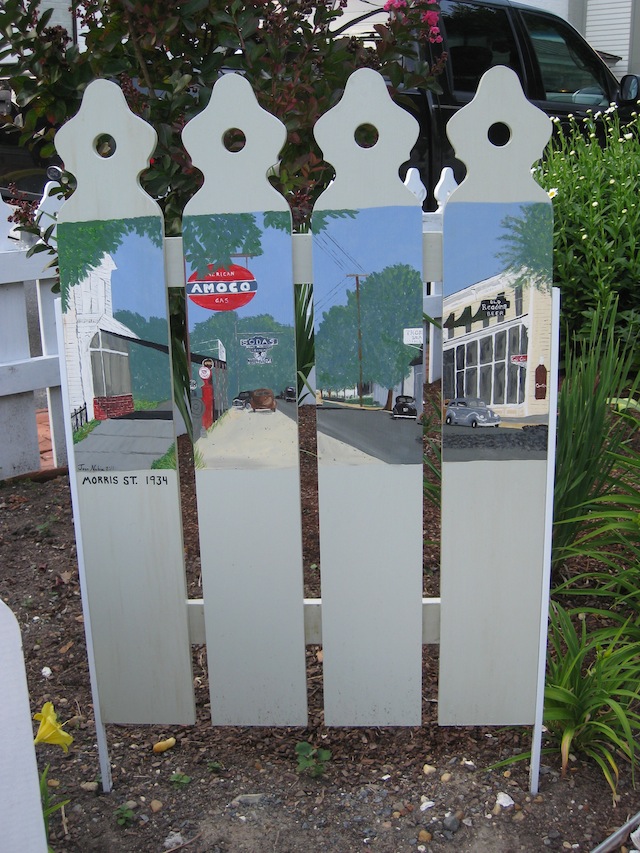 Fence Art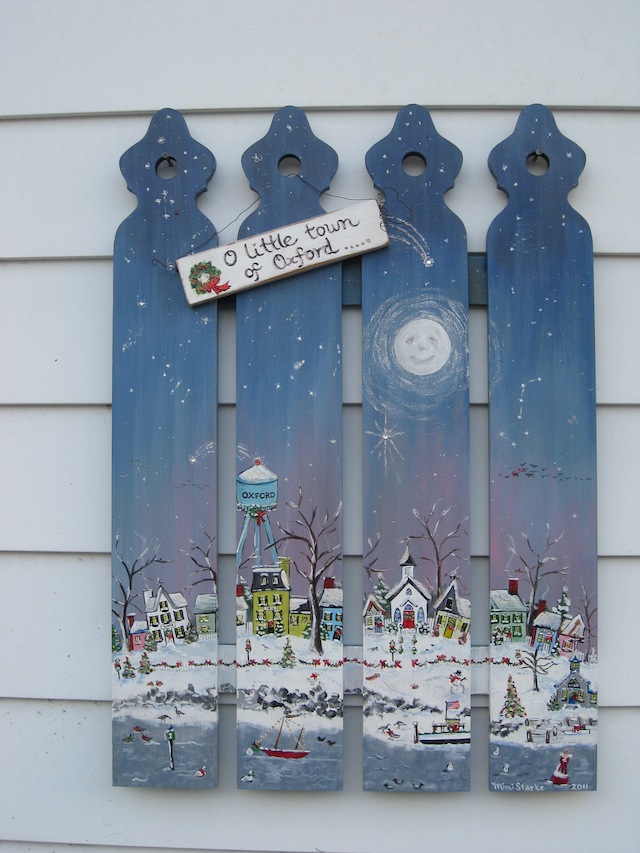 Fence Art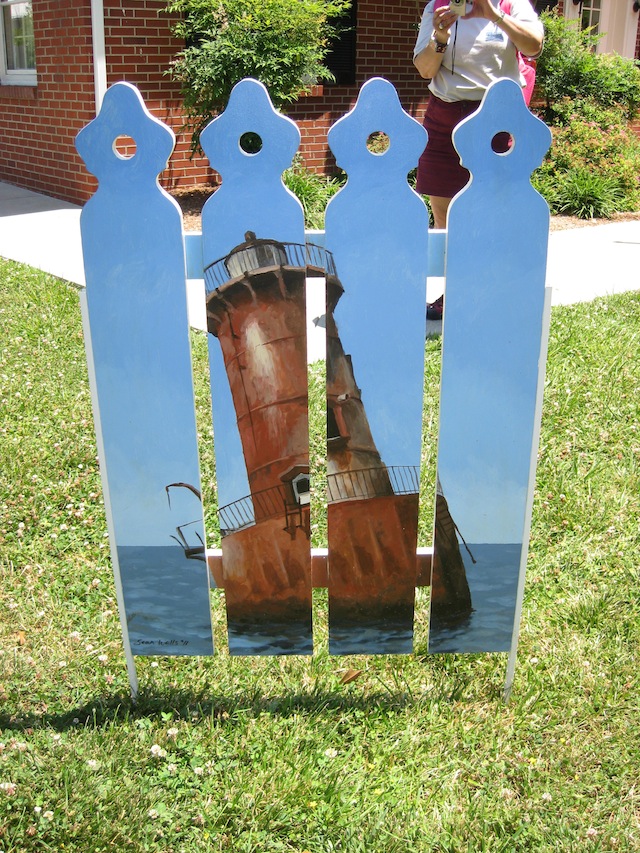 Fence Art
Wednesday brought yet another day of perfect weather. While hiking into town along the sand beach at "The Strand", we met a couple of women who were collecting sea glass for craft projects. In town, we checked out a few shops and did more sightseeing. At lunch time, we purchased a couple of fantastic shrimp salad wraps from the local grocery store, and ate them sitting in the park overlooking the Tred Avon River, watching the boats come and go. Joan decided to return to the marina for a swim while I poked around in the boatyard and sheds of "Cutts & Case", renowned boatbuilders who do traditional wooden boats but also use modern materials. There, I bumped into fellow PSA member Jon Bailey, who showed me his hi-tech triangular-frame folding bike.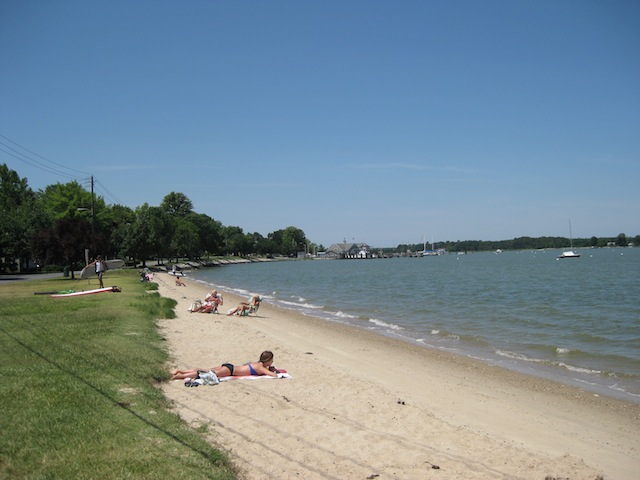 The Beach at "The Strand"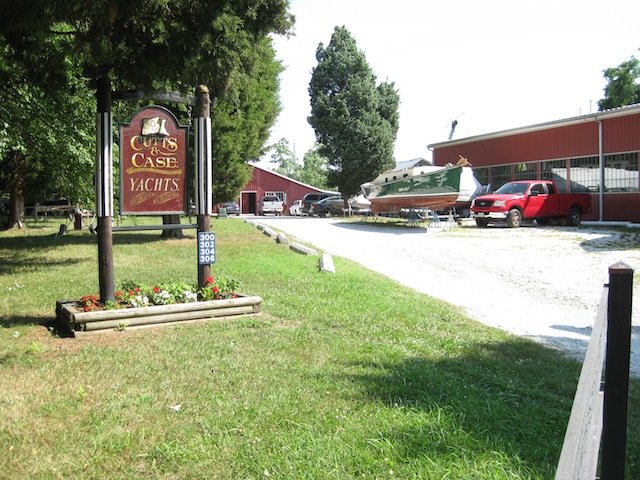 Cutts & Case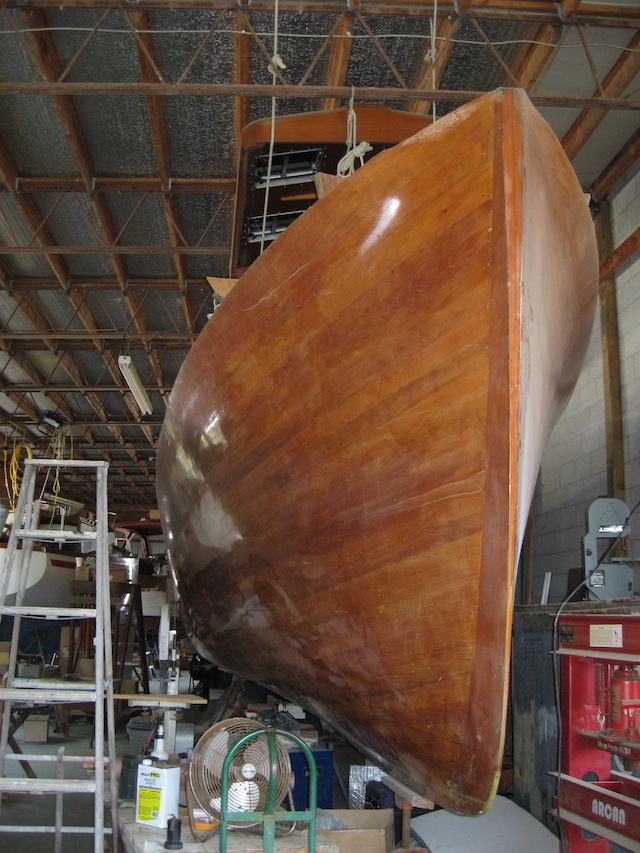 Incredible Hull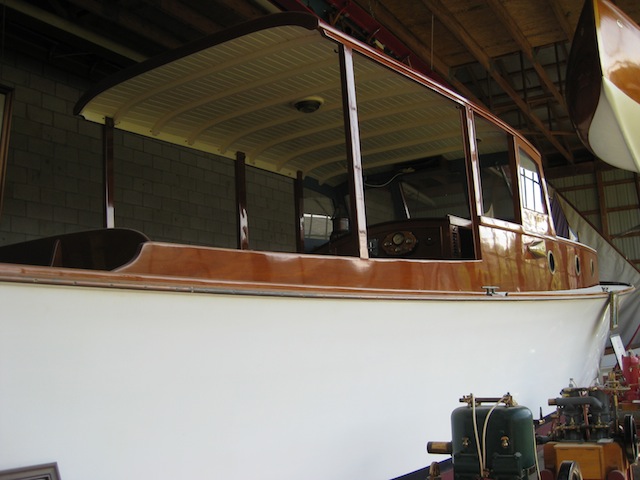 "Foto" on Display in the Museum
I returned to the marina and did some boat maintenance while Joanie was having a siesta after her dip in the pool. Later, we had another of Joanie's fabulous dinners aboard. To end the day, we took an evening walk and watched the sunset from the park.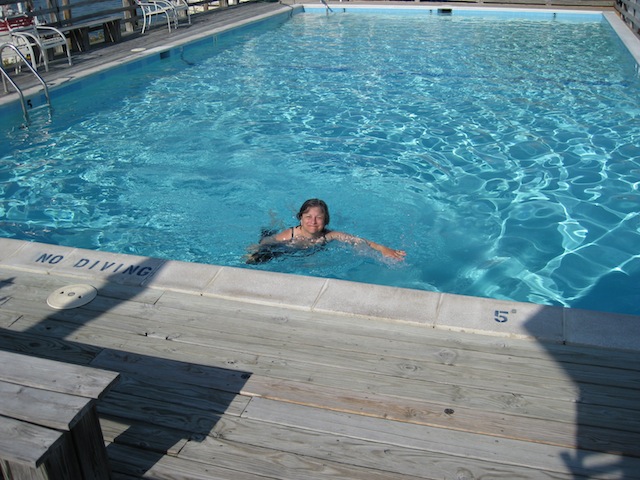 All to Herself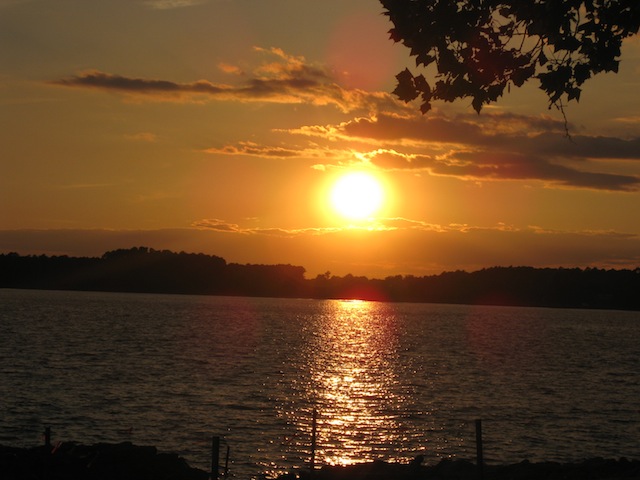 Sunset in the Park
Tomorrow, we were planning on meeting up with our longtime friends Jack and Mary-Beth in Solomons for dinner. They were returning north from a trip down the ICW, and just happened to be in Crisfield's, across the bay from Solomons.
But the weather reports were beginning to deteriorate. After looking at the predicted winds (SW) and the chance of afternoon thunderstorms, we decided to leave extra early.
A Bumpy Trip to Solomons
So at 6:30 am, we cast off our lines and set out for Solomoons Island, about 32 miles away. Once we got onto the Choptank River, we were able to reach out into the Bay. We initially reefed for the 16 kt wind, but later shook it out as the winds dropped.
Once out on the Bay, we close-hauled for one long tack across and down the Bay. The wind was increasing, and we reefed the jib but not the main. That was probably a mistake. The time to reef is when you first even think about it!
As the winds shifted counterclockwise, we kept getting lifted to a more southerly course, and eventually arrived at Calvert Cliffs near the power plant around noon without tacking once! It was a great run! Definitely the best one of the week.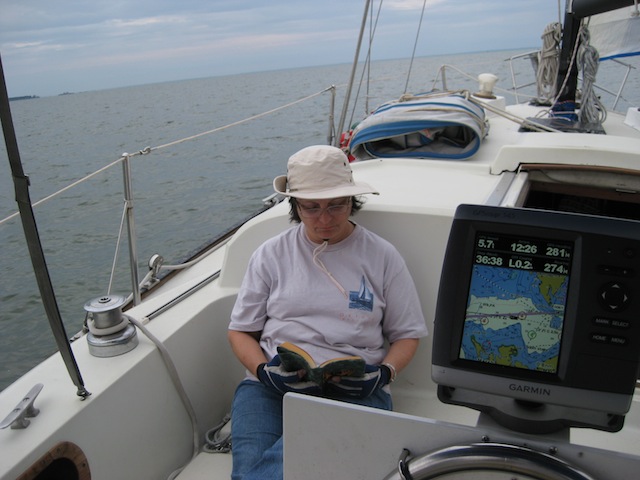 Reaching out of the Choptank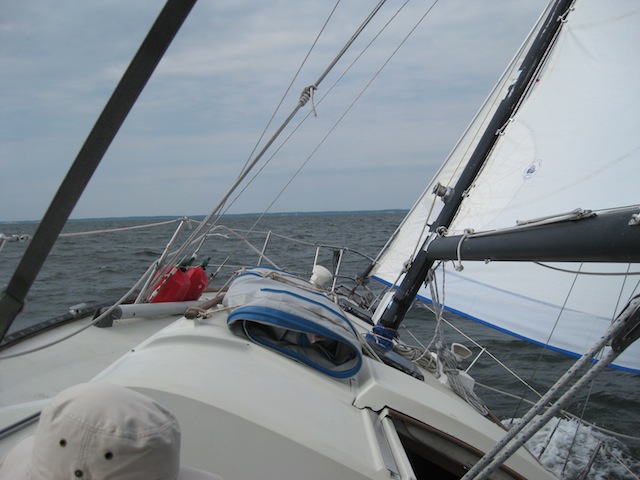 Fantastic Sail To Calvert Cliffs
Once we did tack, however, things weren't as good. The wind and chop had both increased, and we were consistently burying the rail, with waves up to 3 ft. banging us around. At one point, I noticed that I had failed to properly secure our two jerry jugs of dinghy gas, and they had been swept off of the deck and were hanging by their lines. No way I was going to risk going down there after them on this tack. Moments later, before I could decide on a course of action, the line broke and we lost them both. Fortunately, they were of the new "ventless" type, so no gas was spilled into the Bay. Somewhere, somebody got a nice windfall, tanks and gas!
By one o'clock, I decided that we had to motor in order to get to Solomons at a reasonable hour. There were also thunderstorms building to the south of us and headed our way, and I did not want to be out in them.
By this time, the winds were blowing 18 - 20, and the waves had increased to 3 - 4 ft. Getting down the sails was a real challenge. The flailing jib sheets destroyed our two shroud-mounted wind tells, and the unreefed main was a real handfull. We didn't bother flaking, just tied it out of the way. Ugly but functional.
The engine performed great. I had to crank it up to 2800 rpm (I usually cruise at 2000 to 2400) to be able to power into the wind & waves. The boat would labor up to 4.5 kts, and get smacked almost to a standstill by the next wave. But the motor did this without a hitch, and the temperature gauge never moved higher than it's normal 180.
We overtook and passed a similar-sized Tartan who was also trying to get to Solomons ahead of the storm. It was amazing how much of his hull came out of the water with each wave. I imagine we looked much the same. I wish I had gotten some photos, but it was too wet on-deck to bring out one of our (non-waterproof) cameras.
I was using the GPS chartplotter to cut us as close to the coast at Cove Point as possible in order to minimize the distance. Around 2:00, as previously mentioned in a notice to mariners, the GPS lost all signal due to Navy testing at Pax River. How nice. Once that went out out, I had to use charts and be more conservative since I knew my position less accurately.
So we pounded on for another 2 hours. Joanie took a nap below and I took watch. And we lucked out. The first storm passed to the East of us. But more were on the way behind it.
As we neared the Patuxent River, I was getting pretty beat, but Joanie was still having a great time, enjoying the motion as the boat crested each wave! I noted two sailboats, who obviously had local knowledge, cutting inside of the fish traps just north of the river. I selected the more prudent course, and stayed well outside of them. With storms coming, he last thing we needed was to run aground or get a net tangled in our prop!
Once we got down into the mouth of the Patuxent and turned past Drum Point, things settled down. We calmly motored into Back Creek and headed for Spring Cove Marina, just up the creek from Zanhisers. Spring Cove is a huge place with lots of facilities. It's sort of like an RV park for boats. And they have the cheapest fuel in Solomons. We topped off the tank before tying up in our slip.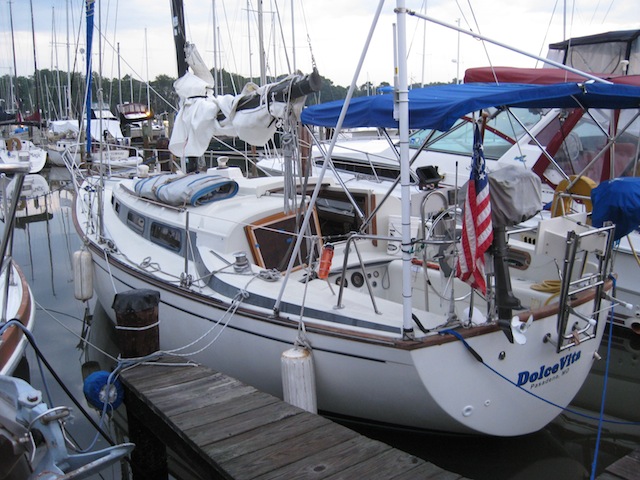 Secure at Spring Cove
Jack & Mary-Beth were already on a mooring on the creek, having had an easier trip over from Crisfields. They dinghy'd over to our dock, and we had wine and cheese aboard Dolce Vita while Joanie put together another outstanding dinner of tortellini and seafood. Somewhere shortly after the first wine bottle was opened, another storm rolled through, forcing us all below.
And it poured! For quite some time! With four people, and pots on the stove, the inside was soon like a rainforest, with water dripping everywhere. And the downpour overwhelmed the gaskets on our ceiling hatches, adding to the wetness.
And, just for an added touch, the shore power went out! We later learned that the outage was huge, covering almost the whole county. But with all the motoring we had done, we had fully charged batteries so it didn't bother us.
We had a great time eating, talking, and playing games. After the last morsel of food, and a couple of bottles of wine were gone, the rain finally let up, and Jack & MB took their water-filled dinghy back to their boat. Moments after they left, the power came back on.
Exploring Solomons Island
Friday dawned partially cloudy but dry. Just for grins, we took the marina's electric courtesy shuttle to town, even though it was only a distance of less than a mile. There we did the shops for a while, and ended up at Solomons Pier for lunch, where we had the hugest crabcake and the hugest soft-shell crab sandwich either of us have ever seen!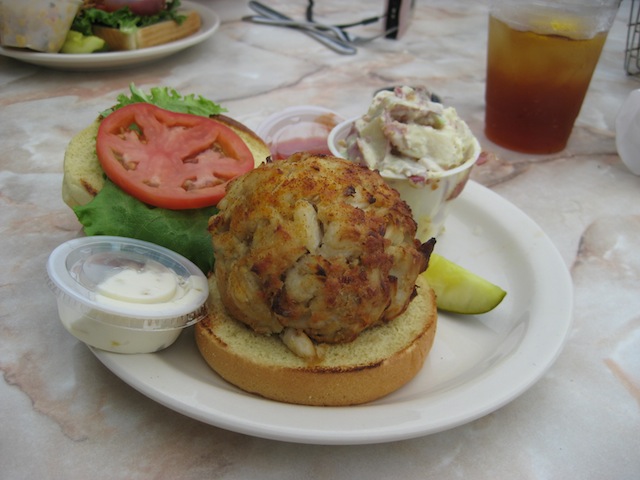 Softball-Sized Crabcake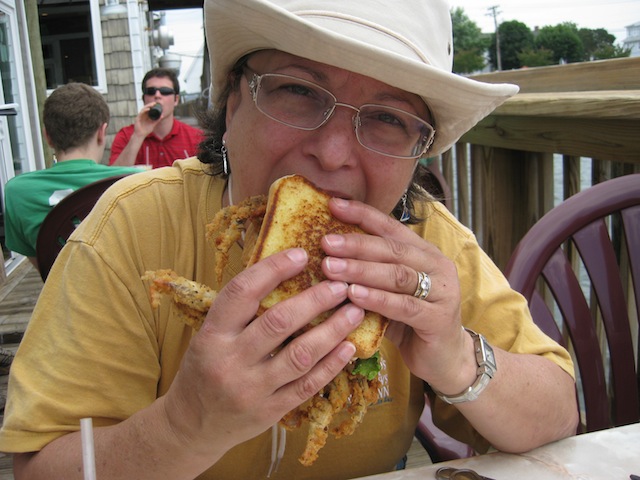 TWO Softshell Crabs in One Sandwich
After lunch, we did a few more shops, and wandered into the the old Oyster packing plant which is now part of the Calvert Marine Museum. We bumped into Jack there. The tide was rising (they had been extra high) and was beginning to flood the building, so we only had a short time there before it closed. Apparently, this is typical at certain times of the year. The wooden stations where the shuckers once stood were raised up off of the floor so they could continue working without standing in the water!
We left there and headed to the main part of the Museum, but went via the back streets instead of along the main road. More interesting that way. Wandered through the town's Catholic cemetery, looking at some of the old headstones.
Spent the rest of the afternoon at the Calvert Marine Museum. Watched some otters, and took a tour of the relocated Drum Point Lighthouse, which is a screwpile style lighthouse, almost identical to Thomas Point Light.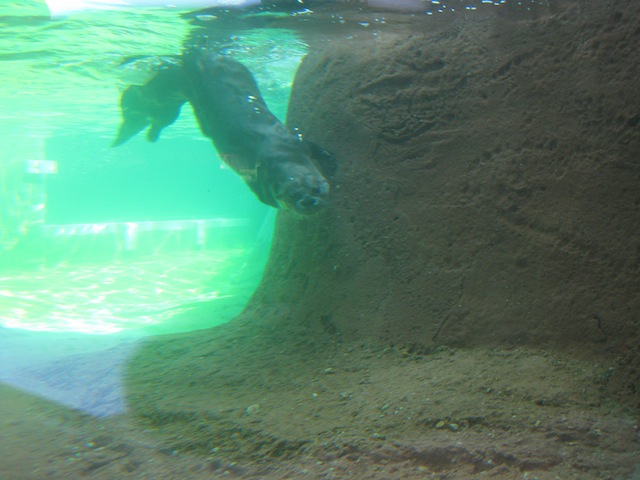 Playful Otter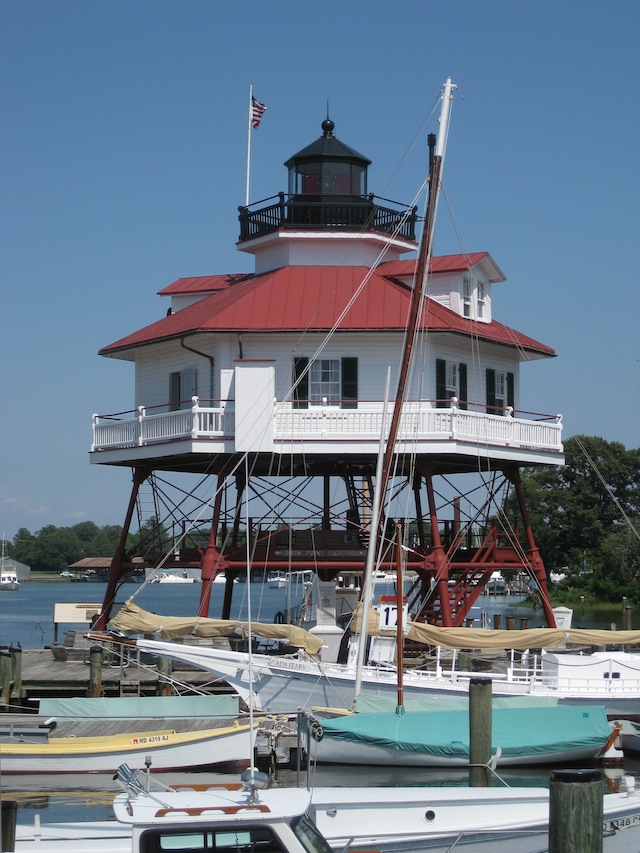 Drum Point Lighthouse
Around 6:00, we met with a friend and his wife who live nearby. They were originally going to join us for dinner, but something came up, so we only met for drinks and a chat. No sooner than we had poured the first round, the rain started again! This time it was short, though.
On their recommendation, we went next door to "The Captain's Table" for dinner.
Our trip home would take two days. We had originally planned to anchor out somewhere, but that wasn't possible now due to the broken toilet. We figured we'd get at least as far as the West River, and hoped to get as far as Annapolis on the first day. If we only made it to the West River, we'd stay at Pirates Cove again. If we made it to Annapolis, we would have liked to get a slip at the city dock, but the chances of that, late on Saturday, were slim. But we decided to wing it and see what happened.
Uneventful Trip to Annapolis
It's 42 miles from Solomons to Annapolis, and the winds were predicted to be light, so we got up at 5:00 am for a 6:00 am departure. On the way out, we swung by Voyager, and said goodby to Jack.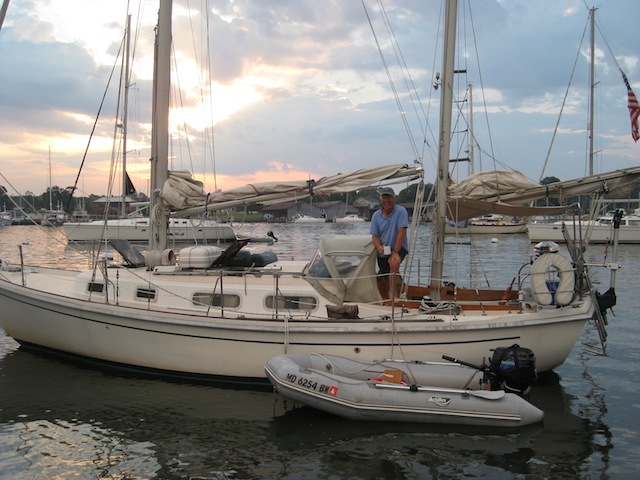 Jack Aboard Voyager
As predicted, the winds were favorable but extremely light, only 2 - 4 kts. Dolce Vita is a heavy boat for her size (32 ft, 12,800 lbs), and doesn't really start moving unless the winds are at least 5 - 7 kts. So we motored.
The whole way. :(
The upside was that, motoring at 6 kts, it only took us 8 hours, instead of the 10 we had been estimating if we sailed.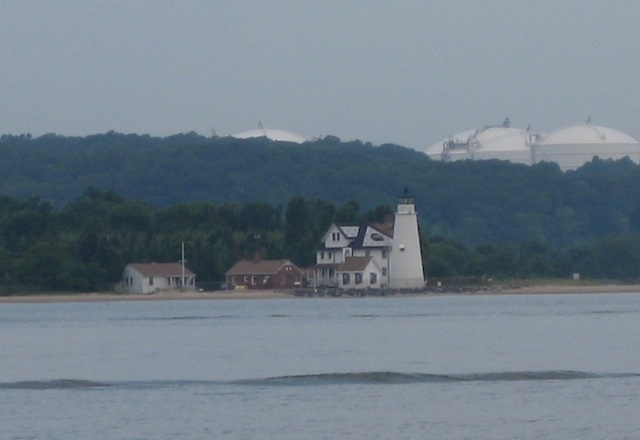 Cove Point Lighthouse, with LNG Storage Tanks in the Background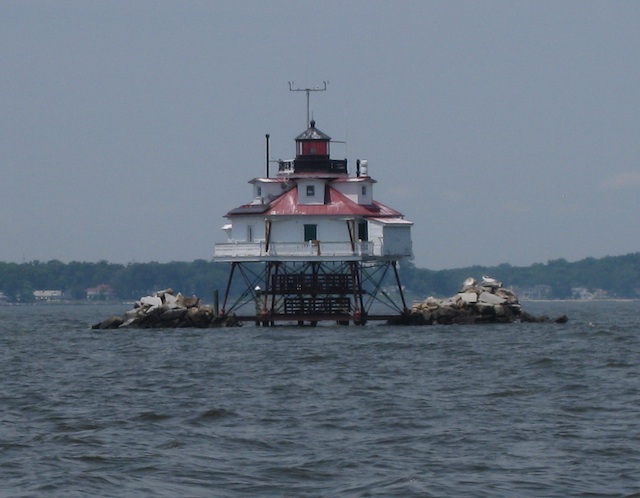 Thomas Point Lighthouse
On the way, we got hold of Pat Drenning (one of our boys-nite-out group), who lives just north of Annapolis on Whitehall Creek and has a 5-slip dock. He let us tie-up there and use the bathroom & shower in his house. There was also an retired cruising couple tied up there. They have a house in Key West, but spend about 9 months of the year out cruising. Every time they pass thru, they tie up at Pat's.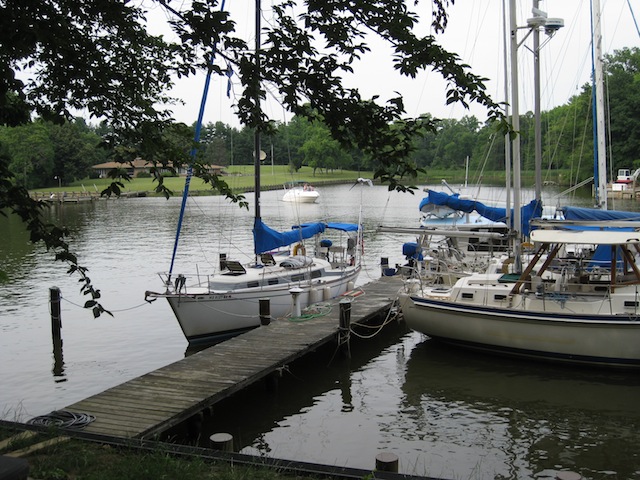 Whitehall Creek
That evening, we managed to get hold of Darren, another friend in the area, who took us to a fantastic Sushi resturant in downtown Annapolis called "Joss". Really extensive menu and excellent Sushi.
Homeward Bound
Sunday was the last day of our adventure. We had a leisurely breakfast aboard Dolce Vita, and chatted with the other couple on the dock. We left for home about 10am.
Winds were again light, but had come around to the NNW, so we motored again, under the Bay Bridge, past Sandy Point Park, past the Magothy River, and into the Patapsco. There, we skirted south of White Rocks, and entered Rock Creek. We were back in our slip at Oak Harbor by 2:00pm, where we spent a couple of hours unloading and cleaning the boat, after our traditional "End of Voyage" drink.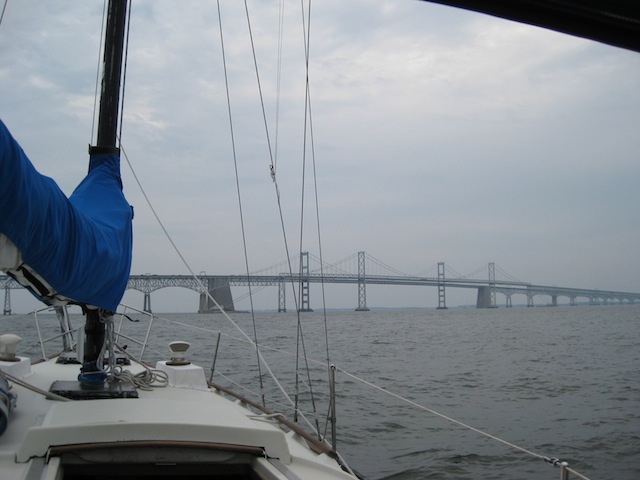 Bay Bridge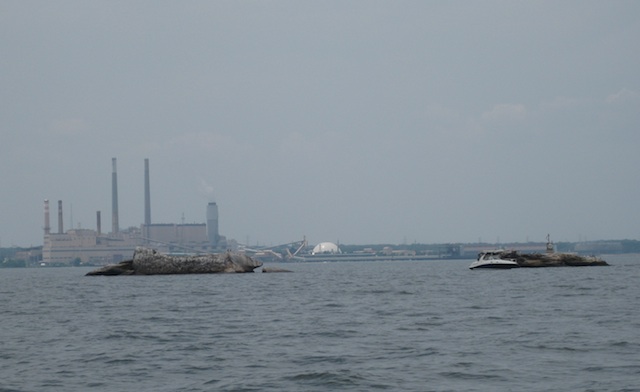 White Rocks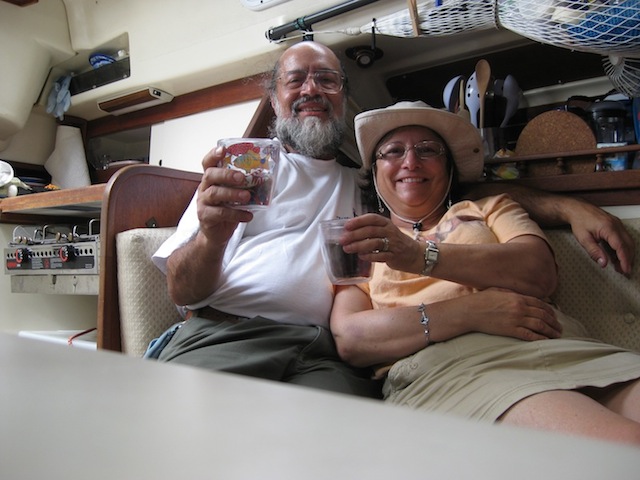 End-of-Voyage Drink
To the Next Trip!
So, over the course of 10 days, we visited six places and covered about 200 NM. This has been our longest trip to date, and we thoroughly enjoyed it! And learned a bit more about the boat and ourselves. Next year, we're planning on doing a Delmarva circumnavigation, a trip of about 400 NM. It will be Joanie's first offshore experience, and my first time offshore as skipper.
We can't wait!
Postscript:
A few days later, I went back to the boat and disassembled and fixed the toilet. One of the nastiest jobs I've ever done. It was just as I suspected; the piston had come unscrewed off of the pump shaft. But it's fixed, and everything is cleaned and sanitized. And functional! It worked fine for the rest of the summer.
---