Welcome to the Dolce Vita web site.
Dolce Vita is our 1977 Pearson 323. We bought her in the fall of 2009, and promptly rechristened her with this name, after observing the proper rituals to Poseidon. Traditionally, this involves a gift in the form of the blood of a virgin, but, virgins being so hard to find, we made do with champagne!
This web site is my attempt to document our learning and experiences as we transition from a 1200 lb 21 ft daysailer to a 12,800 lb 32 ft cruising sailboat. It's very much a work-in-progress, so please be patient if some of the pages aren't there yet.
NEWS: In October of 2016, we are setting off on a journey down the ICW, over to the Bahamas for the winter, and then back up the ICW to the Chesapeake in the spring! Follow us on our blog.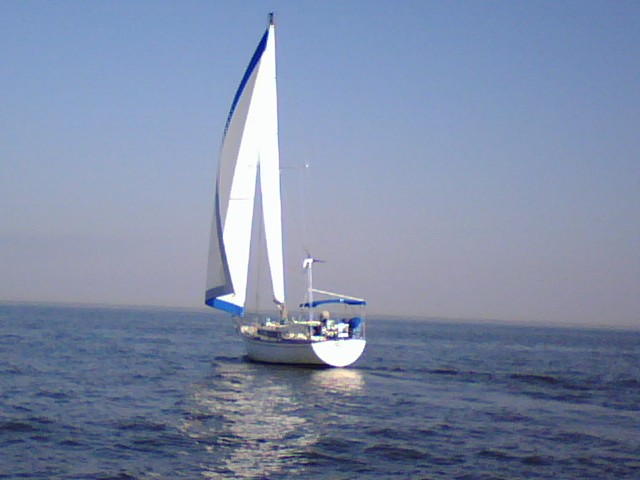 Dolce Vita's cruising grounds are the Chesapeake Bay. Her home port is on Rock Creek, near Pasadena. MD. This is off of the Patapsco River, just south of Key Bridge and about a 2 hour sail from Baltimore's Inner Harbor.

About the Name

The name Dolce Vita (pronounced DOLE-chay VEE-ta) is Italian. It means "The Good Life" (literally, "sweet life"). In many ways, selecting a name for the boat was harder than finding the boat! Or rather, finding a name was not hard (we had a list of over 40 candidates!), but finding one we could both agree on was a challenge! Eventually, we each came up with half of the name. Repeated comments from passengers on how "sweet" the boat sailed caused Joan to suggest that as a candidate. In Italian, sweet is "Dolce", and Joan immediately proclaimed that as her number one choice. Later, it occured to me that, in Italian, "The Good Life" was "Dolce Vita". Finally, we had a single choice that was at the top of both our lists! So, in the end, our interest in our Italian heritage, comments from passengers, and the allure of the cruising life all came together and "Dolce Vita" was the result.
---